We all come to this question at some point in our playing careers. Our parents (or we as parents) have needed to make the all-important decision:
Do we rent or buy the instrument?
Why Rent?
In most cases, beginners of all ages begin by renting. Why? There are a few important benefits to renting as a beginner:
Insurance. Our rental program comes complete with comprehensive instrument insurance that includes normal wear and tear, size exchanges, and replacing broken or damaged strings.
Low-risk commitment. Beginners tend to either be young or just that: beginners. Renting allows you to try out the instrument and gauge interest before making a serious financial commitment.
Rental Equity. At Johnson String, you build equity as you rent. 100% of the first year's rent (excluding insurance and tax) plus 20% every subsequent year goes toward rental equity that can be used to purchase an instrument in the future.
Finances. We offer three levels of rental instruments, not only allowing beginners but more advanced players access to a quality instrument. This is great for when the player needs a new instrument of higher quality but you are not ready to make the financial commitment.
Why Buy?
You are ready for the investment. Purchasing an instrument is a great investment for your musical future. With Carriage House's trade-in policy, 100% of the purchase price goes towards an instrument of equal or greater value when you trade in your old instrument. This allows you to better your instrument as your skills grow and change.
Quality. While our rentals are well-maintained and high quality, they are still rental instruments. There comes a point when the player outgrows their rental and an instrument with a setup of higher quality is required. An instrument from our sales department is also not passed from renter to renter, and won't have the same level of wear and tear. All instruments from our sales department also come with a one year warranty against defects in craftsmanship and materials.
Finances. Violinists should expect to spend at least $1,200, violists $1,500, and cellists $2,600 for the instrument alone. If you purchase the instrument, bow and case together as an outfit Carriage House Violins offers a 10% discount on the bow and case. You will also work with a sales consultant who is a player and can give you informed recommendations. In addition, we offer home trials with up to two instruments and three bows at a time. This is the perfect opportunity to try out new instruments in a variety of environments and to get teacher and peer feedback.
**An additional option is to purchase a rental outfit. Give us a call or stop in for more details.
But I still don't know what to do!
We can still help! Use the flow chart below to determine what might work best for you: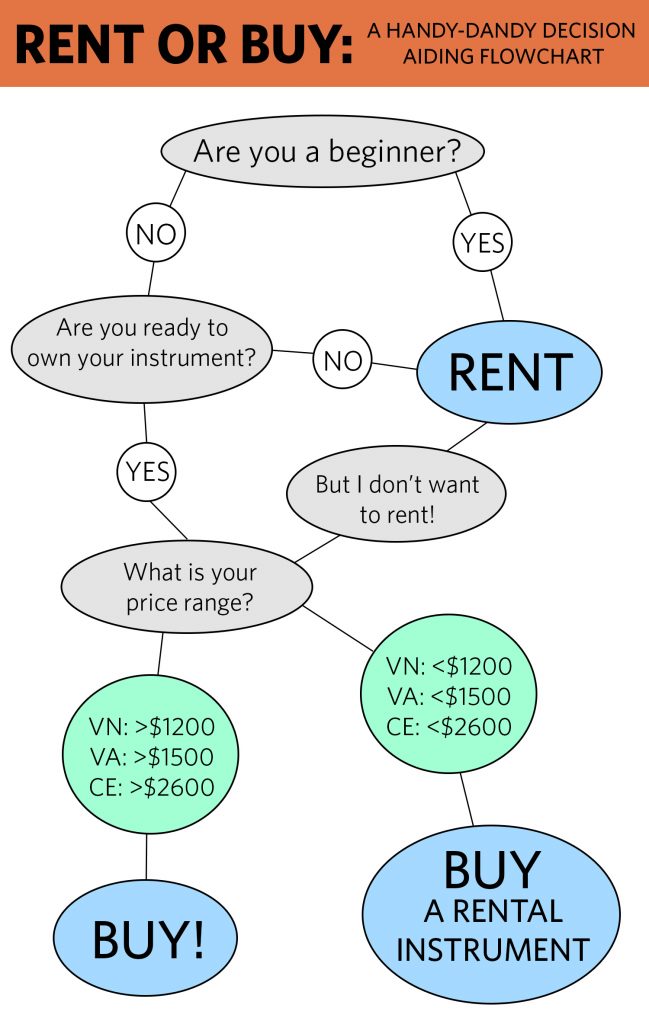 Still not sure? Feel free to give us a call at 800-359-9351 or stop by our shop at 1029 Chestnut Street in Newton Upper Falls, MA for more information!
Learn more about our rental program here and our instrument sales here.
Don't miss a post: subscribe to our blog!
Copyright © 2016 · All Rights Reserved · Silvija Kristapsons