We've already talked about choosing strings in the general sense. However, what about the specific needs of the cello? There are many additional factors to consider:
Price: Cello strings are more expensive than those for other instruments. The G and C strings in particular are costly–a C string alone can run the same price as a full set of violin strings. Thankfully, a cellist's C string is not as thin as a violinist's E and will last longer.
Playing level: More expensive brands may not be necessary for beginning players, while less expensive brands may not provide enough color or nuance for more advanced players. Teachers will often have recommendations or preferences for their students, and what you prefer when you are first starting out will probably differ from what you prefer further into your playing career.
Style of playing: This does not refer to genre alone–how you play will also determine what you're looking for. Have an aggressive playing style? You may need something different than someone who doesn't.
Mixing and Matching: More so than violin, most cellists do not use a complete set of one brand. Many use two different brands for the top and bottom strings, while others go so far as to have different brands for all strings. You'll need to experiment to find the right fit for your instrument. See the chart below for common preferences: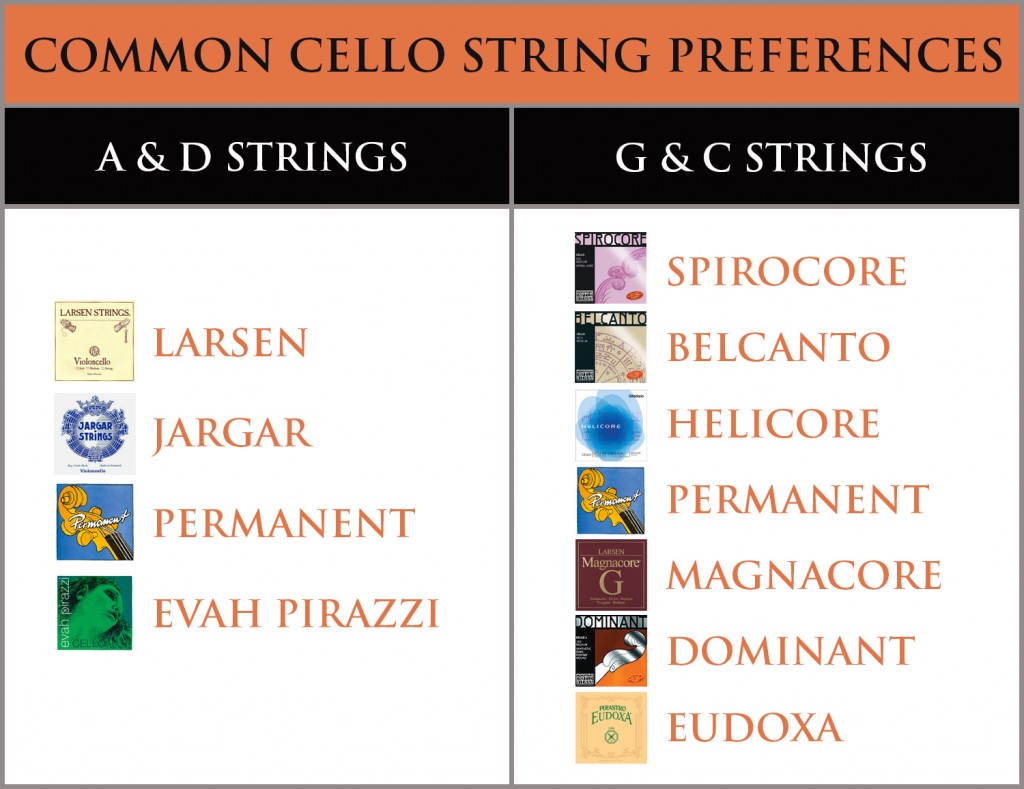 But what about electric cellos?
The same principle applies–you'll need to experiment and see what works best for your instrument. Some brands make strings specifically for their instruments (like NS Design), but many electric cellos can use the same strings as an acoustic instrument. Be careful though; some pick-ups will require a specific type of string in order to function correctly.
When in doubt, talk to your luthier or salesperson–they will have invaluable firsthand knowledge that can help you find the right cello string for you.
Don't miss a post–subscribe to our blog!
Copyright © 2016 · All Rights Reserved · Silvija Kristapsons