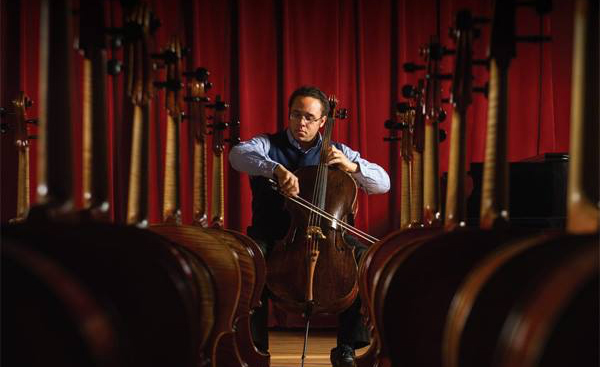 Carriage House Violins has designated March 2015 as Cello month and will be offering an expanded selection of cellos and cello bows for sale.
Selected cellos and bows are now on display in our Contemporary Cello & Cello Bow Exhibit, featuring some of today's finest makers (see below). For trial information, please contact our cello sales consultant Robert Mayes at rmayes@carriagehouseviolins.com or 617-262-0051 ext 306. If you are shopping for a cello or cello bow, now is a great time to buy!
Cello makers featured in the exhibit include Michele Ashley, Paul Crowley, Nicolas Gilles, James McKean, David Polstein, Guy Rabut, Benjamin Ruth, Arthur Toman, Gregory Walke, Lawrence Wilke, among others.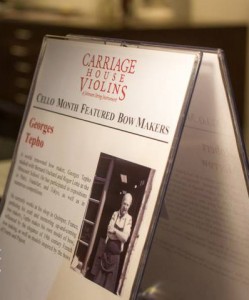 Bow makers include John Aniano, Emmanuel Begin, Jon Crumrine, Pierre-Yves Fuchs, Éric Gagné, Jianfeng Lee, Rodney Mohr, Eric Lane, Georges Tepho, and many more.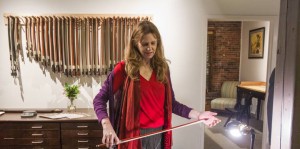 Visit the Carriage House Violins facebook page for featured instruments and bows in the exhibit! We will post a featured cello or cello bow daily throughout March.
To view complete listings of instruments and bows for sale at Carriage House Violins, please visit carriagehouseviolins.com. You can always contact one of our knowledgable sales consultants to schedule an appointment to play the instruments in our shop, or set up a home trial!
---
Click here to see more events scheduled during Cello Month at Carriage House Violins.


We hope to see you!
Carriage House Violins location and store hours
---