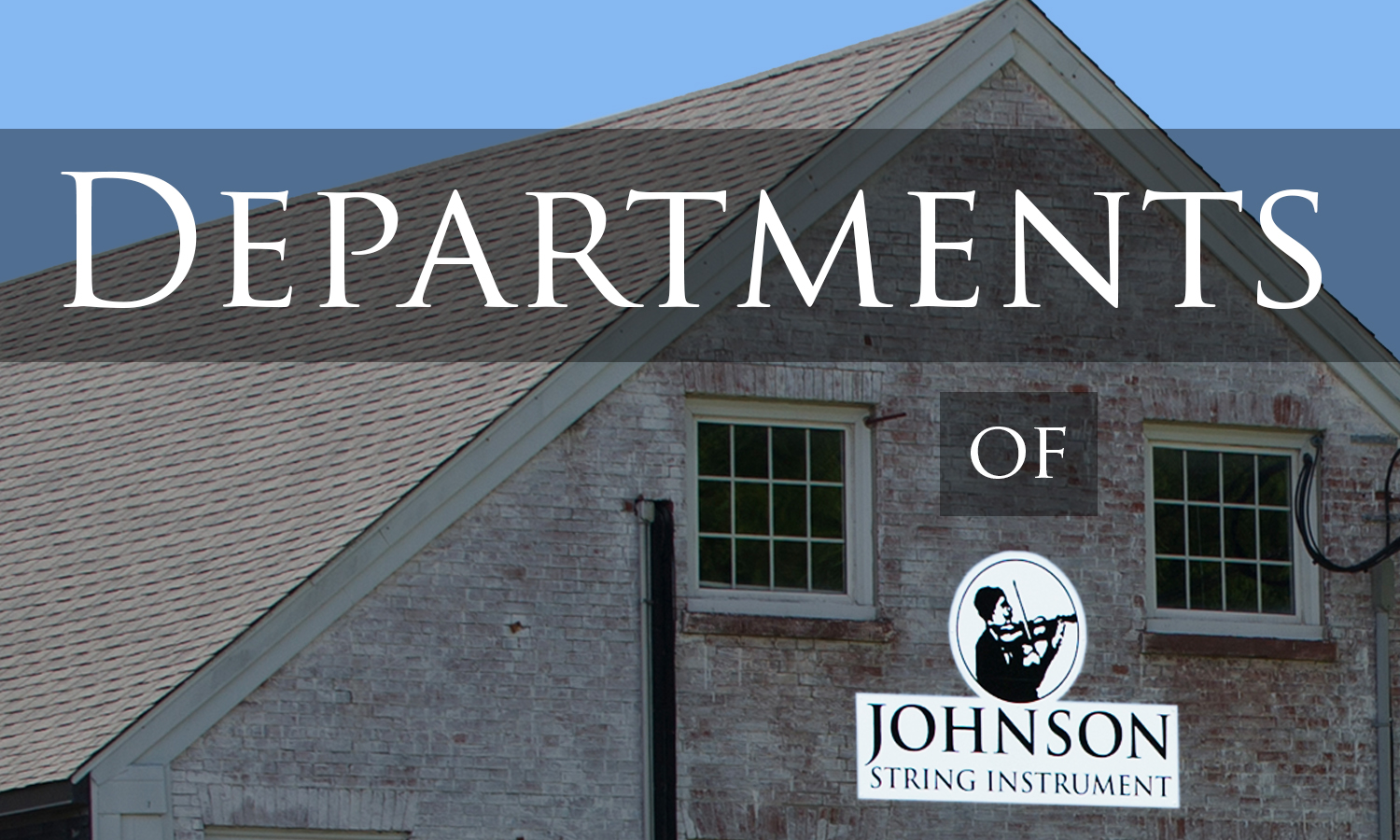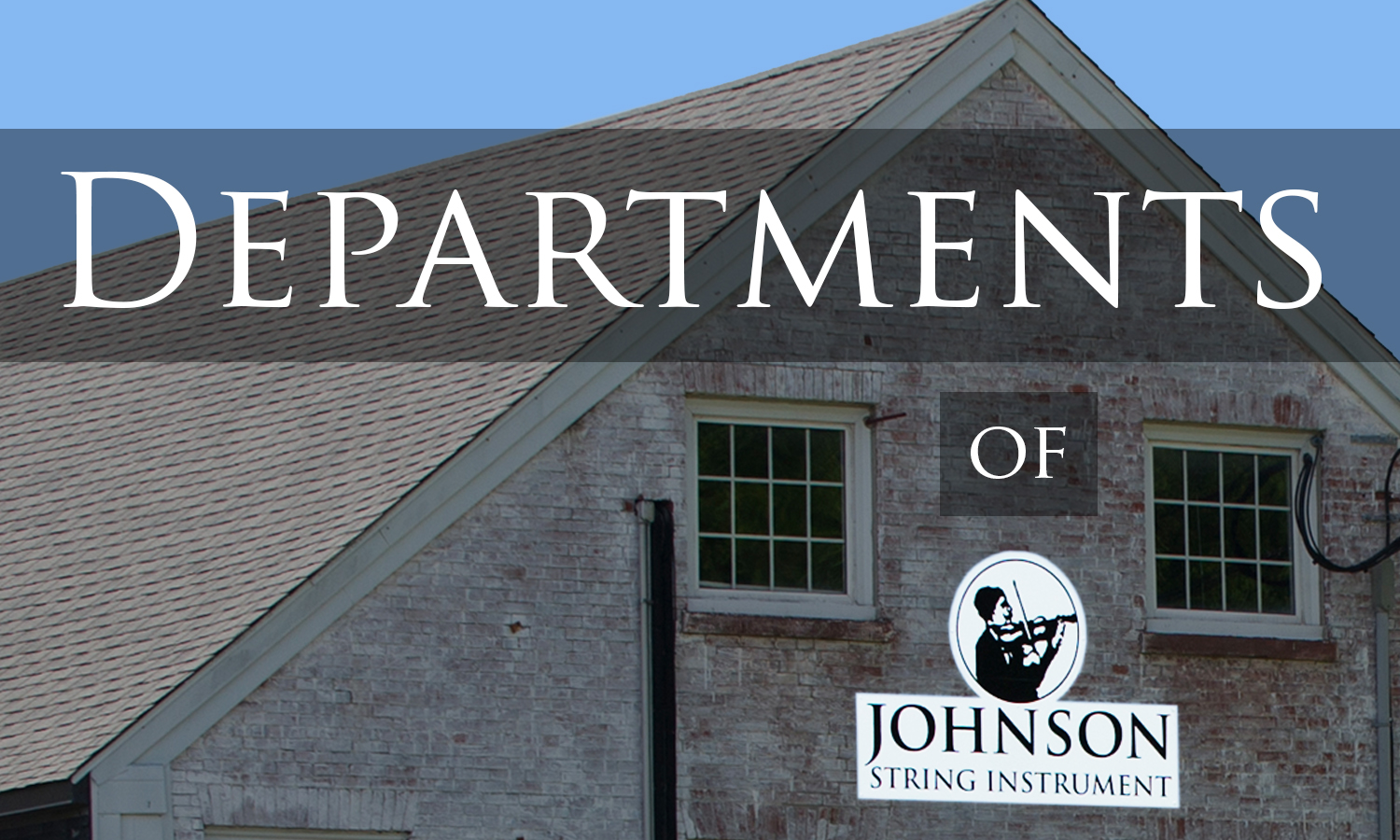 It's time for another installment of Departments of JSI ! This is a series that highlights the different people that work within our company. We're able to run such a large business through the expertise of and collaboration between our different departments. Everyone has a skill that they utilize to accomplish everything from coordinating rental trips to selling instruments to repairing instruments to shipping things on time and safely. This series will help you get to know the variety of people and jobs that are done here at JSI.
Our Sales Department consists of our sales consultants and director of sales and acquisitions. These are who you talk to when you are looking to purchase an instrument, be it by phone, email, or in person. We asked them to answer a few questions about themselves:
What is your position at JSI?
Allan Espinosa: My position at Carriage House Violins of Johnson String Instrument is Senior Sales Consultant.
Matthew Fritz: Director of Sales and Acquisitions
Armenuhi Hovakimian: My position is a Violin Sales Consultant.
Robert Mayes: Cello Consultant
Phil Rush: Viola Sales Consultant
Lucy Turner: Assistant Sales Manager
Where did you study your main instrument?
Allan: I spent three years of study at the University of North Texas. I then moved to New England and completed my studies at the Boston Conservatory where I completed my BM and MM in violin performance.
Matthew: Bachelors in violin performance from Arizona State University. Masters in Orchestral Conducting from The Eastman School of Music.
Armenuhi: My education started in Armenia and then in Rochester, NY at the Eastman School of Music Prep Department. I received my Bachelors at Indiana University of Pennsylvania and my Masters in violin performance at Western Michigan University.
Robert: Walnut Hill, New England Conservatory, Julliard, Boston University
Phil: UC Riverside (composition/theory) B.A.; California Institute of the Arts, Viola Performance M.F.A.; Florida State University, Viola Performance D.M.
Lucy: I have a BMus degree in violin performance from Vanderbilt University and an MMus from Boston University.
What does a typical day look like for you?
Allan: My typical day at CHV revolves around my clients. This would include speaking with my clients to gain a better understanding of what they are looking for in an instrument, hunting down those instruments within our inventory and spending one on one time to help select a particular instrument with the player. When I am not working directly with clients, I spend time with the luthiers of the workshop, fine tuning instruments and making sure our instruments are in top condition. They day is full of communication be it face to face, on the phone or via email.
Matthew: My days are varied. Much of my time is spent evaluating instruments as potential appraisals, consignments or acquisitions and advising clients about buying and selling instruments and bows. Additionally, I oversee the sales staff and support them as they endeavor to match clients with the perfect instrument and bow. On any given day, I can be found at my desk, attending trade events, traveling for sales and acquisitions opportunities or meeting with my staff.
Armenuhi: My day begins with emails and phone calls to my clients. Then I work with our highly qualified luthiers and bow makers to adjust instruments and bows to reach the goals and needs of my clients.
Robert: I begin by practicing for 2 hours on 2-3 different cellos and 3-4 different bows. I find it important to be as familiar with the instruments as possible. When I work with my clients I want to provide them with my honest opinion of the instrument or bow. Every day at the shop is different because we work with a wide range of musicians. At the beginning of this week I was in Los Angeles with members of the LA Philharmonic and on Friday I will be working with one of the cello professors at the New England Conservatory.
Phil: My day begins with correspondence via email and phone in response to customer queries. After that I set up for any appointments I have, work with our luthiers and bow technicians on adjusting instruments and bows that need it, and reach out to my sales contacts who are looking regarding our latest acquisitions.
Lucy: The first thing I usually do in the morning is respond to client emails and return calls. Once I'm caught up there, I work with clients who have in-store appointments or I play instruments in preparation for shipping trials. A lot of my managerial duties involve inventory and getting new instruments and bows ready to trial and sell, so I take care of tasks related to that throughout the day as needed.
Do you play any secondary instruments?
Allan: I do not claim to play a secondary instrument very well but I did spend time studying piano and clarinet and have sung in choirs.
Matthew: I do not make music other than playing the violin and conducting.
Armenuhi: I played piano for 20 years.
Robert: No.
Phil: I also play piano and guitar. I guess you could say that as a violist, the violin is also a very important secondary instrument….
Lucy: Nope.
What is your favorite part of your job?
Allan: My favorite part of my job is the moment when a young musician has found the instrument that inspires creativity and pursuit of creativity in music. I also enjoy the vast array of instruments and the opportunity to work with contemporary luthiers hand in hand with the sales staff and clients.
Matthew: I enjoy many aspects of my job. The instruments are fascinating, especially then it comes to the craft and history of the violin. There is so much to learn, and even the internationally-recognized experts are constantly adding to their knowledge on a daily basis. I also enjoy traveling and meeting a variety of people from players to makers and collectors. In my position, there is never a dull moment, and you never know what a day will bring.
Armenuhi: Seeing my clients smile and working with my clients to find a great tool and the right instrument to carry their passion for music.
Robert: I enjoy being able to interact with so many musicians of all levels. Finding the right instrument or bow is crucial and I am thrilled to help people find their voice.
Phil: My greatest satisfaction comes from helping our clients find the instruments that inspire them and take them further toward their goals, whatever they may be.
Lucy: I love working with a client to figure out exactly the sound they're looking for in an instrument or a bow. It's really satisfying to find an instrument for a client that's a perfect match and that they're excited about playing.
Don't miss a post: subscribe to our blog!
Copyright © 2016 · All Rights Reserved · Silvija Kristapsons