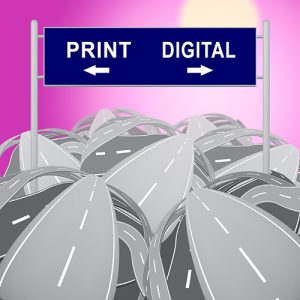 You've probably heard the assertion that print media is dead, and while suggesting the industry's early demise is a bit harsh, it's true that digital media is winning out. As a result, libraries, news outlets, and publishers are hurrying to digitize their archives and include virtual counterparts in their current offerings.
Unsurprisingly, the sheet music industry has also been impacted, with digital sheet music quickly becoming a favorite among people just learning to read music and seasoned professionals alike. Some musicians start out learning from books of printed sheet music and stick to print music to the very end, while others swear by digital sheet music as a more convenient and efficient way to play.
But when it comes down to digital vs. printed sheet music, is there actually a superior choice? Let's investigate whether sheet music is better read from paper or an iPad.
Preferences, preferences, preferences
As with most questions of "this or that," whether you use printed or digital sheet music is a matter of preference. For people who prefer printed sheet music, they likely appreciate the fact that it allows for making notes and edits directly onto the page as you go. In fact, some players swear by handwritten annotations, as handwriting has been shown to improve recall. Furthermore, print sheet music is much less likely to have formatting errors, connectivity problems, or technological difficulties, meaning you can access your music anywhere and anytime.
Those who prefer digital sheet music, however, are happy to ditch the bulky books in exchange for a smaller, sleeker digital device. Digital sheet music also has increased shareability, making it easy to collaborate on compositions or duets with other musicians. Some digital sheet music programs have hands free options so you don't have to scramble to turn pages during a piece. And if you're trying to stay environmentally friendly, going digital will help reduce paper waste.
Making digital sheet music even more efficient
Ultimately, whether you use paper or digital sheet music is up to you. However, if you're leaning towards digital options, there are some accessories that can enhance your playing experience.
AirTurn Duo is the best companion for any musician trying to go digital. With new and improved technology, the wireless foot pedal can read music and turn pages, scroll lyrics and tabs, and cue audio effects. There are also hundreds of compatible apps to customize and control just about any setting you could dream of. The best part is that AirTurn Duo is completely silent, so you don't have to worry about noisy buttons or papers interrupting your recording. Get more out of your music with the best digital tools on the market.