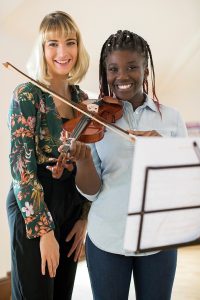 Finding a private teacher for your child can seem daunting, especially if you are not a musician yourself. Maybe you want to get your child an early start on an instrument, or their school director recommended they get a private teacher. Whatever the reason, many parents ask the same question: How do I find the right teacher? Here are a few things to keep in mind when searching for a private teacher for your child.
The Commitment Level
The commitment level is different for each teacher, and the best fit will depend on what your and/or your child's goals are. Consider how many hours of practicing they require, the type of repertoire they expect their students to learn, and their expectations about students participating in competitions. The good news? There are many different types of private teachers out there! Make sure the commitment they expect matches what you and your child are looking for.
You should also consider what your commitment level as a parent will be, especially if your child is a beginner. In the Suzuki method, one of the recommendations is that the parent also learns the instrument if they don't know it already and serves as the "home teacher." You will obviously be involved no matter what, but remember to take into account what the teacher expects of you too when your child is practicing at home. If you do suddenly find yourself learning a string instrument, don't worry; we have instruments available for children and adults in our comprehensive rental program.
The Location
Some teachers rent out space in a music store, a school or a church, while others teach in their own home. Most people look for a teacher that is close to their home, their child's school, or their work. Depending on where you live and what your goals are, you may need to be flexible on distance to find the private teacher you're looking for.
Another thing you can look for is whether a teacher travels to students' homes, or even if they offer online lessons. This can be a great way to accommodate a busy schedule or let your child study with someone they wouldn't normally be able to.
The Cost
Most private teachers require weekly lessons, and cost is important to consider. Before you sign on with any teacher, talk about rates and how they handle payments so that everyone is on the same page. Some teachers prefer to be paid weekly, others at the beginning of the month or semester. Others work directly for a music school, in which case the payments might be handled by the school itself. Everyone has a different system, so it's worth figuring out what works for your family.
The Person
In the end, the most important thing to consider is whether your child enjoys working with their teacher. Does their teacher support their goals and challenge them musically? Since this is a one-on-one relationship, the goal is to have it be supportive and positive. Trust your gut and your child's experience with their teacher.
More Help Finding a Private Teacher
Need more help in your search? Our teacher database can help you find a private teacher! Log in or create an account on our website and immediately search our extensive database of private teachers located across New England.
---
Copyright © 2021 · All Rights Reserved