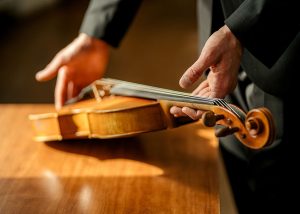 If you're new to playing the violin and not sure how long your interest will hold, it may seem irresponsible to invest in a high quality violin. However, learning to play on a cheap instrument isn't going to do you any favors when it comes to improving your skills. Perhaps owning your own violin isn't practical at the moment, but renting a violin is a great option for people who want to dip their toe into the world of music.
There are plenty of benefits to renting a violin before you buy one. Not only does renting give you time to decide whether or not you want to continue learning violin, but it prevents you from wasting money on an instrument you no longer use. Then, if you find you enjoy playing the violin, making a permanent purchase will be a more prudent choice. The difficulty is knowing when to take the plunge.
Making the transition
It may be hard to commit to a long term investment like buying an instrument. However, if you foresee longevity in your violin passion it makes more sense to buy a violin instead of renting one. Whether you have dreams of playing violin professionally or recording your own music, it's worth the investment to transition from renting to owning.
Though $2,000 -$3,000 seems like a steep price compared to a monthly rental fee, it's more financially efficient in the long run. Not to mention that you're paying for a high quality, full size instrument you can own for a lifetime. If you see a future for yourself as a violinist, it may be time to return your rental.
Let's go downstairs…
Once you make the decision to become a violin owner, you'll have to decide where to acquire your instrument from. Perhaps you've been using rental instruments from the Johnson String catalog. If you enjoy the quality of their professional violins, you're in luck. Carriage House Violins is a division of Johnson String Instruments that focuses on connecting customers with a violin that you can keep with you forever. Carriage House operates as a full service violin shop that provides both modern and antique instruments by the finest makers. There is no better business to help you transition from renting a violin to proudly owning one.
---
Copyright © 2022 · All Rights Reserved