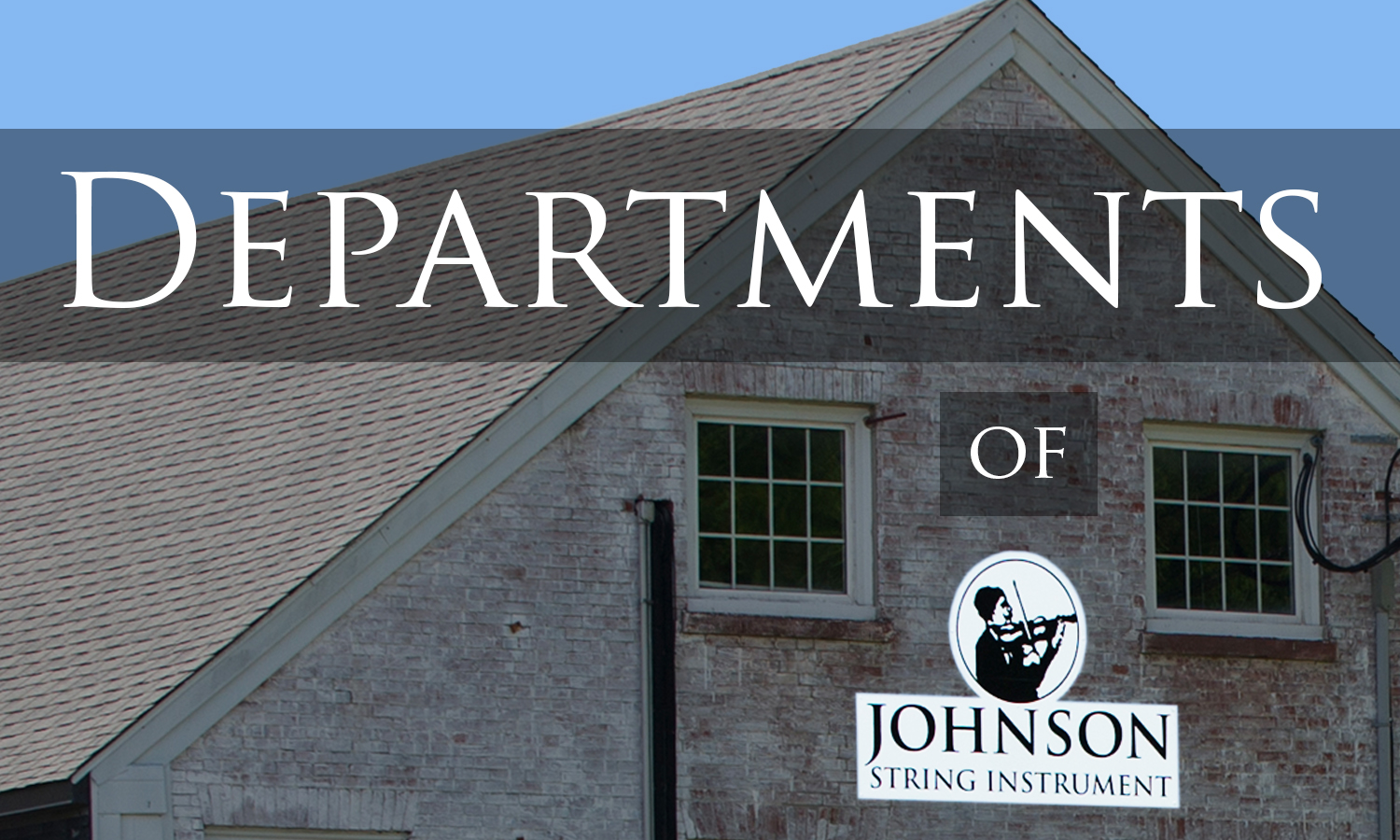 It's time for another installment of Departments of JSI! This is a series that highlights the different people that work within our company. We're able to run such a large business through the expertise of and collaboration between our different departments. Everyone has a skill that they utilize to accomplish everything from coordinating rental trips to selling instruments to repairing instruments to shipping things on time and safely. This series will help you get to know the variety of people and jobs that are done here at JSI.
The Front Staff are among the most visible departments in our company. If you've ever come in to our Newton location, you have probably talked to a member of our front staff. They handle everything from rentals to selling merchandise to fitting chin and shoulder rests. We asked them to answer some questions about themselves and their jobs:
What is your position?
Justin Davis: Guitar Specialist/School Programs Specialist
Julie Metcalf: I am the Assistant Store Manager at JSI.
Amy Nolan: Store Manager
What is your favorite part of your job?
Justin: Finding the perfect instrument for a player, whether that be a first time student or a more advanced musician looking for a forever instrument. The process of pairing an instrument to a player is very rewarding.
Julie: The most exciting thing we do in the storefront is rentals! All kinds of people, young and old, come in each day looking to play an instrument for the first time. It is magical to share with them my joy and enthusiasm for music. I take care to help them select the right instrument and set them up with evrything they need to get started. Rental customers come in each day with many different needs: maybe the player grew and needs a bigger size, or there's an open seam on a rental cello, or a violinist has a broken E string. It's rewarding to be able to help people on their musical journeys.
Amy: Helping everyone from kids to adults find joy in music!
What does a typical day look like for you?
Justin: A typical day can include setting up each guitar to a tight specification to ensure proper playability, intonation, and quality. Working with customers to find them the perfect guitar, mandolin, or ukulele. Scheduling and/or visiting a school program to service students' instruments to ensure that they are practicing on the highest quality rental instruments possible.
Julie: I work in the storefront every day, assisting customers who come in the door. I do a little bit of everything: helping people find sheet music, advising them on strings, fitting chinrests and shoulder rests, and showing accessories like cases and music stands.
Amy: Everything from renting instruments to new players and helping advancing players select higher quality instruments to working with local teachers to make sure they have everything they need for their students. I enjoy working with staff at all levels of the company to ensure great levels of customer service and a love of music all around.
What is your main instrument?
Justin: I have played violin since the age of 7 and started playing guitar in middle school. I have always been a jack of all trades and "master" of none. Anything with strings I can probably play it. But if you were to force me to pick one, I suppose it would have to be guitar as that is what my degree is in.
Julie: Violin. I have played many different styles of music on violin and viola.  I mostly play fiddle for contra and square dances in the Boston area. I also play jawharp, and I am learning banjo and guitar.
Amy: Cello.
Did you go to school for music?
Justin: I went to the University of Maine and double majored in music education and classical guitar performance.
Julie: I went to Berklee College of Music, where I studied violin performance.
Amy: Yes, University of Southern Maine, studying piano and cello.
Were you a Johnson renter growing up?
Justin: No.
Amy: I was! I had only been playing for a couple of years when I switched to a JSI rental cello and had a great time. Later on my family used the rental equity to purchase a cello once I could play a full-size, and I still play that instrument!
Don't miss a post: subscribe to our blog!
Copyright © 2016 · All Rights Reserved · Silvija Kristapsons