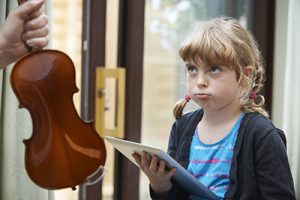 Learning to play an instrument can be a transformative experience for children, fostering discipline, creativity, and a lifelong appreciation for music. However, there can come a time when students consider quitting. This can leave parents and music teachers scratching their heads, especially if students were previously making good progress.
We want to explore some common reasons why kids quit music, offer advice about providing encouragement and setting expectations, and discuss how to help them get their motivation back.
Is it too soon?
There are many reasons why a child may want to quit an instrument when they have just started taking lessons. At first, the initial excitement of learning to play may dwindle as the reality of daily practice sets in. As a parent, it's essential to provide the right kind of support during this early stage.
Secondly, consider the investment you've made in the instrument and gear. If you've rented an instrument or purchased equipment, remind your child of this commitment and encourage them to give it a fair chance. But if they still want to quit, consider switching instruments. Changing instruments can often lead kids to appreciate the hard work they've already invested in their previous instrument. And they might discover a talent for a new instrument they hadn't considered before! We have seen many students come into our store asking to return their violin, only to leave with a viola or cello — or even a double bass! – once we give them the chance to play those instruments to see if one might be a better fit for the child, both physically and emotionally.
Finally, discuss the learning process with them. Learning to play an instrument takes time, and it's natural to encounter challenges along the way. Help your child to understand that learning notes, scales, and the basics of playing an instrument is a gradual process, and progress may not be immediate.
Getting over the hump
In addition to offering encouragement, considering other instruments, and setting expectations, parents can also motivate their children in more social ways. In fact, encouraging a child to participate in a recital or performance can be a pivotal moment for a young musician. Not only does it give them a chance to showcase their progress, but it also boosts their confidence.
Joining an orchestra, band, or a music group in particular can make the experience more enjoyable and social. Being part of a team working towards a common goal can foster a sense of belonging and motivation to improve. Students also learn to understand the value of each  practice session, seeing how their individual progress contributes to the group's performance. If your child participates in orchestra in their school, make a point to bring the rest of the family (and friends!) to the public concerts. There is no greater thrill for a young musicians to be sitting on stage, nervously waiting for the conductor to lift the baton, and to look out and see their parents, siblings, grandparents, and friends ready to cheer them on.
By the way, it's natural for children to face moments of frustration and doubt when learning to play an instrument, especially when playing over the summer or balancing extracurricular activities. As parents, your role is to help build motivation, manage expectations, and remind them of the long-term benefits and joys of playing music. By providing the right support and creating a positive environment, we can help our children stay on track in their musical journey, allowing them to experience the lifelong rewards of being a musician.