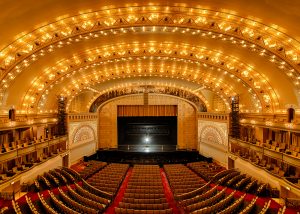 Most kids are introduced to music through stringed instruments some time around 4th grade. Schools will often give the children a choice between learning the violin, bass, viola or cello, and all students are taught the basics together. That's often the sum total of music education for many students, but a select few children choose to continue to more advanced learning on their stringed instruments and go on to join the orchestra in high school. Some people who grew up playing music or hearing it in their home, dream of becoming a concert hall manager. They like the idea of being around music every day and meeting many accomplished musicians along the way. But what else does the job entail? Concert hall managers oversee the staff and are in charge of daily operations of a particular concert venue. They cover everything from hiring and training staff to maintenance checks on the facility to scheduling the performing acts.
Career path
If you're interested in becoming a concert hall manager, the first step is to gain as much experience within the field as possible. While a degree in music business or event management can be helpful, work experience is just as important. To get your foot in the door, try to work as many front-of-house positions, like usher, and back-of-house jobs, like bookkeeper, as you can. Also very beneficial toward reaching your goal is acquiring training and certifications in areas such as emergency preparedness, event management, basic medical skills, crisis or weather preparedness. Of course, having a passion for music works in your favor when working along the career path of becoming a concert hall manager, but getting practical training and experience is the true key to success. You may want to look into a professional organization referred to as IAVM (International Association of Venue Managers). The group offers quite a few training programs for current venue managers as well as those who are seeking a career in the field.
The best seat in the house
One of the greatest benefits of being a concert hall manager is getting to hear and experience all kinds of music. Whether you'd like to be involved in large events or small, intimate concerts, your seat is the best in the house when you're running the show. Looking for supplies to keep in stock at your venue or a good music store to which you can refer the musicians? Check out the full catalog of stringed instruments and accessories at JSI.
---
Copyright © 2021 · All Rights Reserved