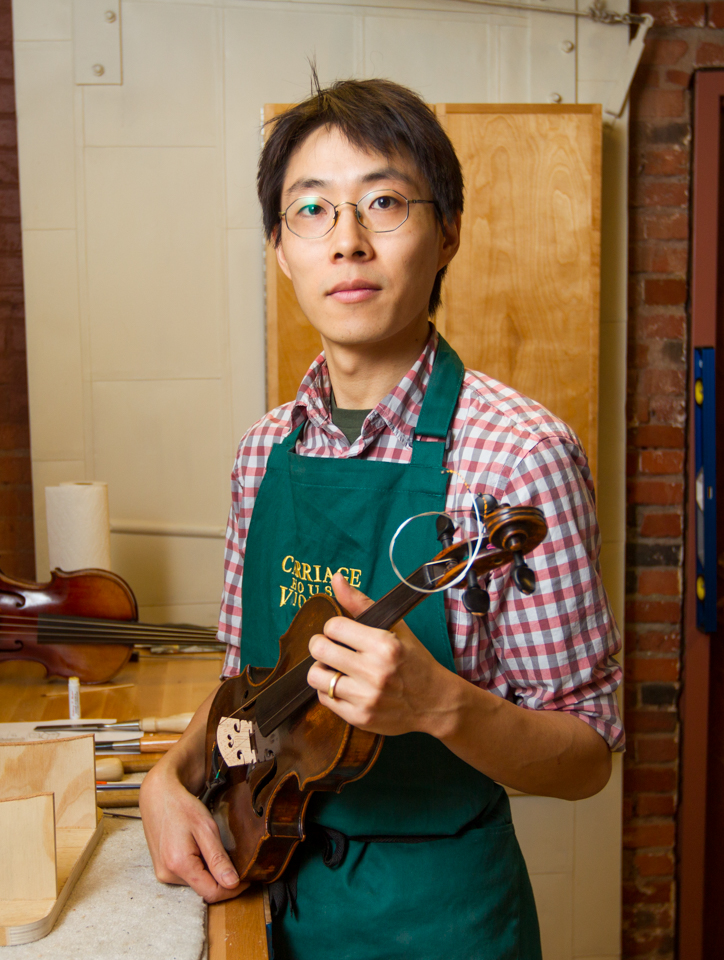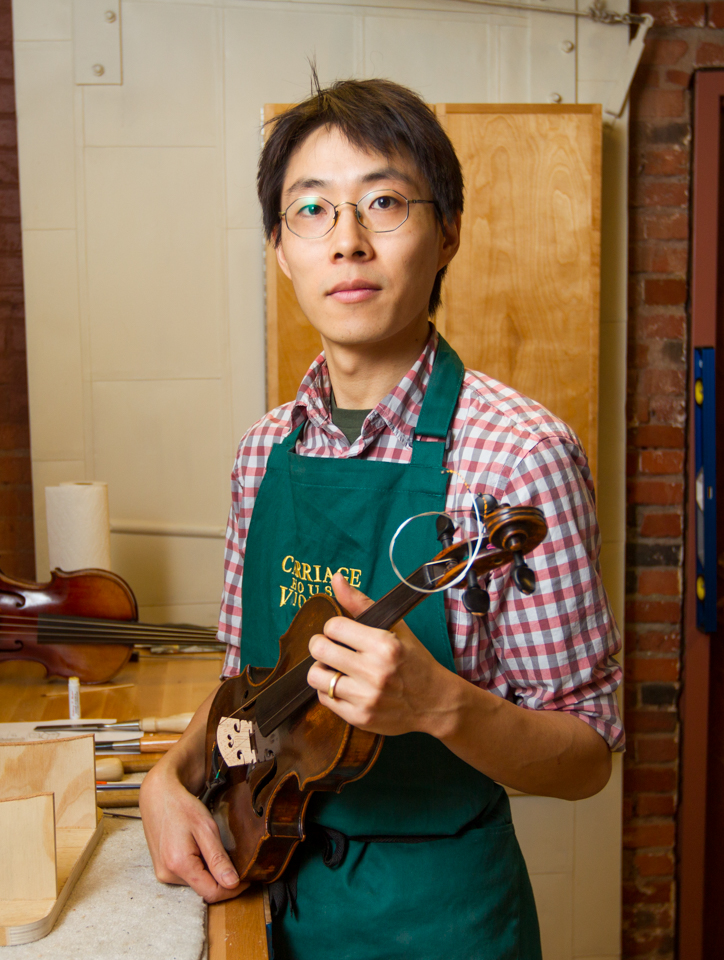 In Kyu Hwang is the newest luthier in our workshop at Carriage House Violins of Johnson String Instrument. Hailing from Korea, In Kyu studied in Mittenwald, Germany and holds the Geigenbau Meister (Master Craftsman) certification. He joined us here at Carriage House in October of 2015. We asked him to talk to us about what inspired him to become a luthier, what prompted him to join our company, and what advice he has for aspiring luthiers: 
As a small child I always enjoyed making models, carving things from soap, that sort of thing. When I saw a documentary about the violin making school in Mirecourt, France, that was really a moment of culture shock because at the time I didn't know such a thing existed in the world. I was very jealous because the individual featured in the documentary was a fourteen-year-old Korean boy. I was a fourteen year old Korean boy! But–a foreign country, a foreign language–for me it seemed impossible. So I forgot about it.
When I was nearing the end of high school I realized I didn't want to do the usual things like go to college and get a regular job. A classmate of mine (now my wife) who played the violin introduced me to a local violin maker who had trained in Japan. He asked me, why did I want to do this job? I would be so poor. He was quite poor actually. But I couldn't listen to him. I had such a passion to do this. So he accepted me to work with him building an instrument in his shop. After half a year I had to mandatory two year Korean military service. I never finished that violin, but he encouraged me to go to Germany and study at the school in Mittenwald when I finished my military obligation.
As a non English-speaking foreigner, negotiating the school's entrance process was its own story. Eventually after fulfilling the two year requirement of violin lessons (among many other things) I finally gained admittance in 2003. It was a three and a half year course of study in the heart of Bavaria.
I began official German language studies as soon as I arrived in Germany, but due to a death in my family had to stop after only two months. I was able to continue learning the language with the help of two German families who tutored me privately. I call them my angels. My success would not have been possible without their help and encouragement.
After graduating, I was able to find work at the shop of Anton Pilar in Berlin where I worked for three years before moving to Los Angeles to work for Georg Ettinger, head of the Hans Weisshaar shop.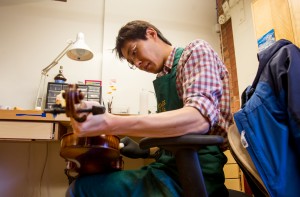 What was your most memorable project?
I remember my first major restoration project. It was a massive undertaking on a Thomas Dodd cello. It required EVERYTHING and I thought, "Will I be able to do all of this?" But it went quite well and I continued [at Hans Weisshaar] working on many fine instruments, memorably a J.B. Vuillaume, Joseph Guarnerius, and another very large restoration on a Dominique Busan viola. I really enjoy such undertakings.
What drew you to Carriage House Violins?
Many different things drew me to work for Johnson String Instrument's fine instrument division at CHV like the depth and variety of Boston's arts and cultural scene, the history of the city itself, and the landscape of New England generally. Walking in Cambridge, seeing all the old buildings, I love it.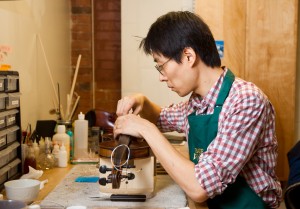 What advice do you have for aspiring luthiers?
I might quote my first teacher in Korea: "Why do you want to work so hard and be so poor?" You must really really love this work.
Don't miss a post–subscribe to our blog!
Copyright © 2016 · All Rights Reserved · Silvija Kristapsons