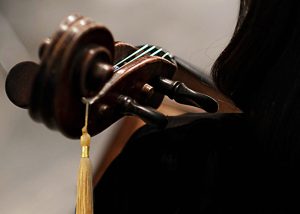 It's that time of the year when college seniors are looking forward to being handed their diplomas and branching out into their chosen field. For some people, it may be easy to decide what path to follow after college. For others, however, the prospects aren't as obvious.
If you are going to college to study music, you may find yourself wondering what to do with your music education degree once you graduate. The music industry is notoriously difficult to break into and high profile horror stories from people who managed to make a career in music are enough to scare anyone off. Entering into music education is an option, but art programs in schools can be underfunded and underserviced, so if you don't have a passion for teaching, it might not be your best option. You could become a performance musician, but how does one find an orchestra to play with, let alone get accepted? If you are feeling nervous about your future in music, don't be dismayed. We are going to break down some of the potential career options for young musicians. 
Picking your path
When planning a career in music, it's important to understand your professional goals. What are you looking for in a job other than playing your instrument? Do you want to work with others or alone? What genre are you interested in playing? What audience are you trying to reach? Once you have decided what you are seeking to achieve in your career, you can narrow down your job options.
Performance careers may be one of the most popular paths among aspiring musicians, and while it can be difficult to get started, it's an incredibly rewarding career path. No matter whether you want to play in an orchestra, a band, or perform as a soloist, having a strong network of fellow professional musicians makes all the difference. You can start building your network now by making connections with your music professors or getting involved with music groups on campus.
Interested in more of a behind the scenes career? There are plenty of jobs in the music industry that don't involve onstage performing, such as managing, producing, or music journalism positions, to name only a few. Music education is also an excellent option if you still want to play your instrument and inspire the next generation, but don't want to be onstage. 
Improvising as you go
Regardless of what type of professional musician you want to be, making connections in the music industry is crucial. You never know what relationship will get you into the audition room or recording studio. Even if you're not keen on performing, personal connections can go a long way. 
Now that you have decided you are going to music college we want to say bravo! Stop by our website and check out the Johnson String catalog today, then check back frequently for our sales including this year's upcoming 2022 graduation sale.
---
Copyright © 2022 · All Rights Reserved