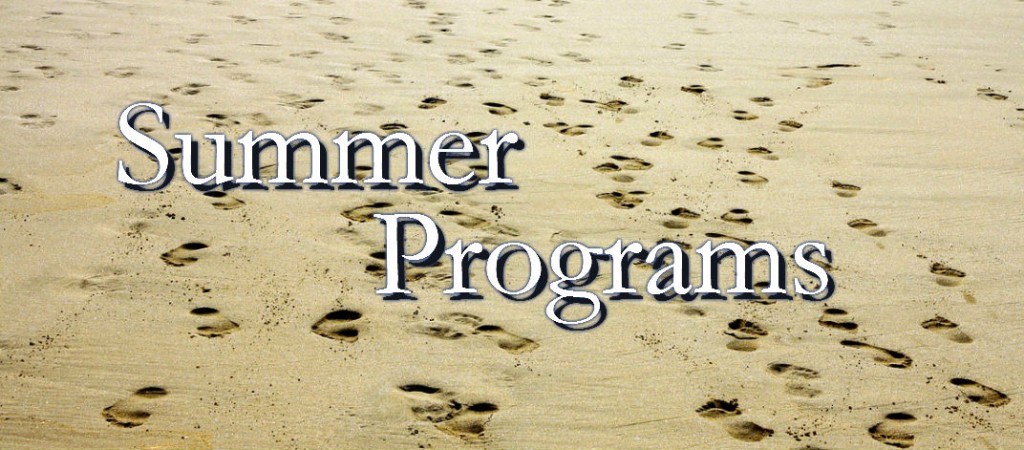 While it may be cold and snowy outside, we have entered the season of summer program applications! We get a lot of questions from parents about summer programs, including what we know or recommend or how to even begin the process of looking for programs. While everyone has different goals when conducting their search, we can give you an idea of how to begin:
What does their teacher recommend?
Your child's teachers are a valuable resource. They know your child's musical strengths, and will have a good idea of what programs might be appropriate. They will have suggestions based on your child's ability, commitment, and interest.
Where do your children want to go?
Don't forget to consult the person attending the program! Some may have no idea, but others will have something in mind. While their goals may not be realistic for one reason or another (or maybe they are, in which case, jackpot!), it will give you an idea of the type of experience they are looking for. You can frame your search with that in mind.
What kind of program are you looking for?
What is your goal? Programs are centered around different aspects of playing an instrument. For example, some focus exclusively on chamber music, individual practice, or orchestral playing. Others combine them. If the goal is to gain more orchestral experience, going to a chamber music or fiddle program will not serve this purpose. Want to try a new genre of music? An orchestral program focused on standard repertoire is not a likely candidate. Confine your search to what type of experience you are looking for.
What is your budget?
For some, this is the deciding factor. Work within what you and your family are comfortable spending. However, like applying for college, many programs offer scholarships or work/study arrangements, so don't let price alone make your decision. Cast a wide net when possible and see what kinds of scholarships might be available to you.
Additional Considerations:
Length: Programs range anywhere from one week to eight. Some students can handle the longer sessions, while others are not ready for an eight weeks away from home. This is a personal decision based on your child and your family. Again, your child's teacher is a great resource if you are not sure whether a longer or shorter session is a better fit.
Distance: How far away are you looking? A program may look amazing but be hundreds of miles or even an ocean away. Consider travel expenses in your budget as well as how comfortable your child is being a long way from home.
Age Range: This is very important. There are programs that cater to both small and wide age ranges. It may be possible to have a high school student in a group with college students, or middle with high school. This can be beneficial, but this is a personal choice. They may have the skills to keep up with someone considerably older, but they may not have the emotional maturity to thrive socially. You want to make sure that your child has a great experience both inside of rehearsal and out.
Applications are due soon, so make sure you check out the due dates and materials needed. While geared toward college hopefuls, our post on applying to music school has a lot of great tips that are also relevant to summer program applications.
You can find a list of programs in the US on our website here and a list of international programs here.
Don't miss a post–subscribe to our blog!
Copyright © 2015 · All Rights Reserved · Silvija Kristapsons