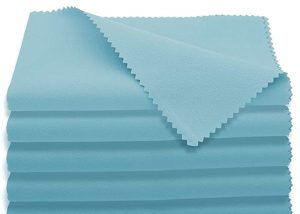 No matter the type of instrument you play, cleaning your instrument the right way is essential. There are plenty of materials that are designed to keep everything from violins to the upright bass looking and sounding like new. The method for maintaining a stringed instrument is dependent on its type, but there are some overlapping techniques.
Whether you are a woodwind, brass, or stringed instrument musician, microfiber cleaning cloths are an ideal tool to cleanse and polish the surface of clarinets, violas, trumpets, and cellos alike. These types of cloths are effective for cleaning off rosin dust, which can build up and harden when the weather turns humid, making it very difficult to remove from the instrument without damaging the finish.
How to use your microfiber cloth
There are a variety of excellent brands of eco-friendly polishing cloths that are available online or at your local music store. These cloths are much more effective at picking up dirt and grime than cotton alternatives. Microfiber cleaning and polishing cloths are soft and smooth, and they won't leave lint on your instrument like some other fabrics. The staff can also help you determine which type of cloth will be best for your instrument and provide tips on how to use your microfiber cloth properly.
Once you acquire a polish cloth the first step is to remove tags that may be attached to it. Microfiber cloths work well for regular instrument cleansing, but there may be times when something stronger is required. When using instrument cleaning liquid, spray it on the fabric of your cleaning cloth rather than directly onto your instrument, which can deteriorate the strings on violin or harm the keys on a woodwind. 
One for each case
Microfiber cloths for instruments are a necessity for all musicians. At Johnson String Instrument our microfiber cloths are eco-friendly and reusable. Plus they come in a variety of fun patterns and colors to choose from. 
It's a good idea to have a cloth for each one of your instruments – or in each one of your cases – so you always have one with you. No matter where you're practicing or performing, you'll be able to keep your instrument clear of residue. 
Cleaning cloths are just one item in our vast catalog. Johnson String Instrument is a top-tier music store that carries all the supplies you need. Visit us in our store or shop for microfiber cloths online as well as any other stringed instruments, accessories, and resources that will help you in your musical endeavors. 
---
Copyright © 2022 · All Rights Reserved