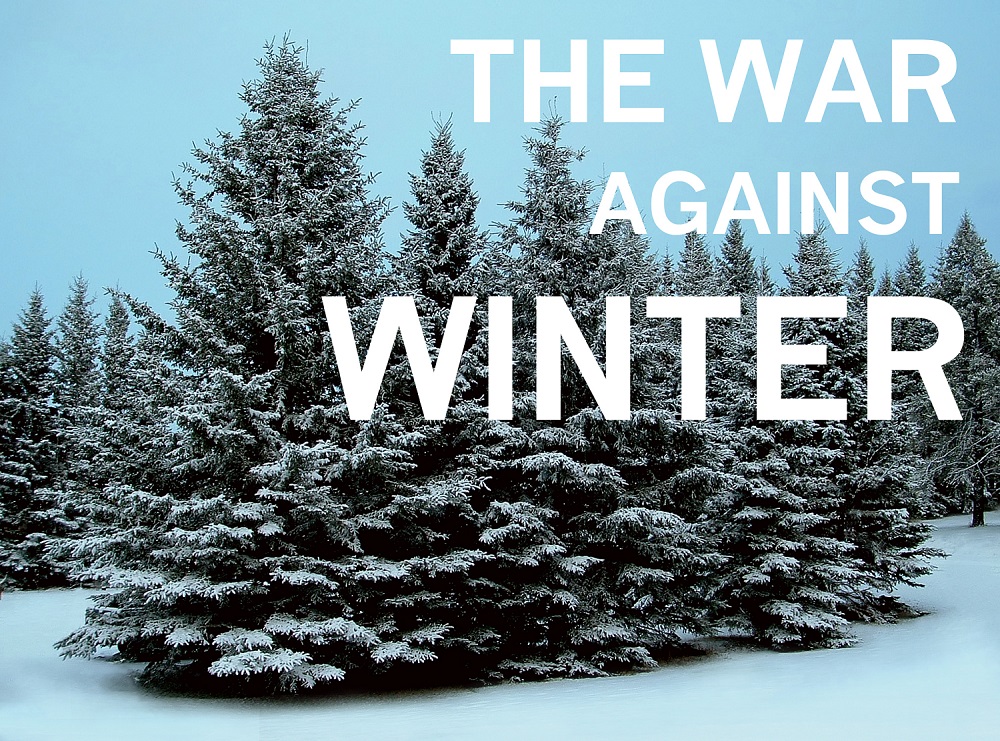 Winter is coming.
The citizens of Westeros are not the only ones who fear the coming season. Musicians can feel its icy claws reaching out in the form of slipping pegs and shrinking string heights. Humidity once again betrays us as it retreats from winter's advance, leaving our instruments vulnerable. Rapidly changing environments, both outdoors and in, seek to wreak havoc. How can we defend ourselves against the impending storm?
Step 1: Know your enemy.
Winter has many weapons in its arsenal and wields them without mercy. As fellow survivors of Snowpocalypse 2015: Boston Edition, we remember its fury. The two most effective weapons winter possesses are humidity and temperature.
Humidity:  During more temperate times, humidity can be an asset. Wood expands and contracts depending on the humidity level; more humidity means expansion (swelling of the wood), lack of humidity contraction (depression of the wood). Winter is not a humid season in the northeast, which means the wood on your instrument is shrinking. There are a few specific consequences of this:
As the humidity decreases, the belly will get lower. This lowers the bridge height and consequently the string height. This is most apparent on cellos—many cellists have seasonal bridges for this reason.
Ever wonder why your pegs constantly slip when winter comes? It's probably winter's fault for driving humidity away. Pegs and the peg box are made from different types of wood that expand and contract at different speeds. This means the peg may suddenly be smaller than the hole.
Temperature: Like you (or unlike you), your instrument does not enjoy rapid temperature changes. This includes going from the frigid outdoors to the well-heated indoors and vice versa. It also includes switching between rooms with very different climates, like from the green room to the stage. Winter is diabolically skilled at making sure this situation materializes on a daily basis.
Step 2: Arm yourself.
Never forget you have your own arsenal with which to fight back.
Common Sense: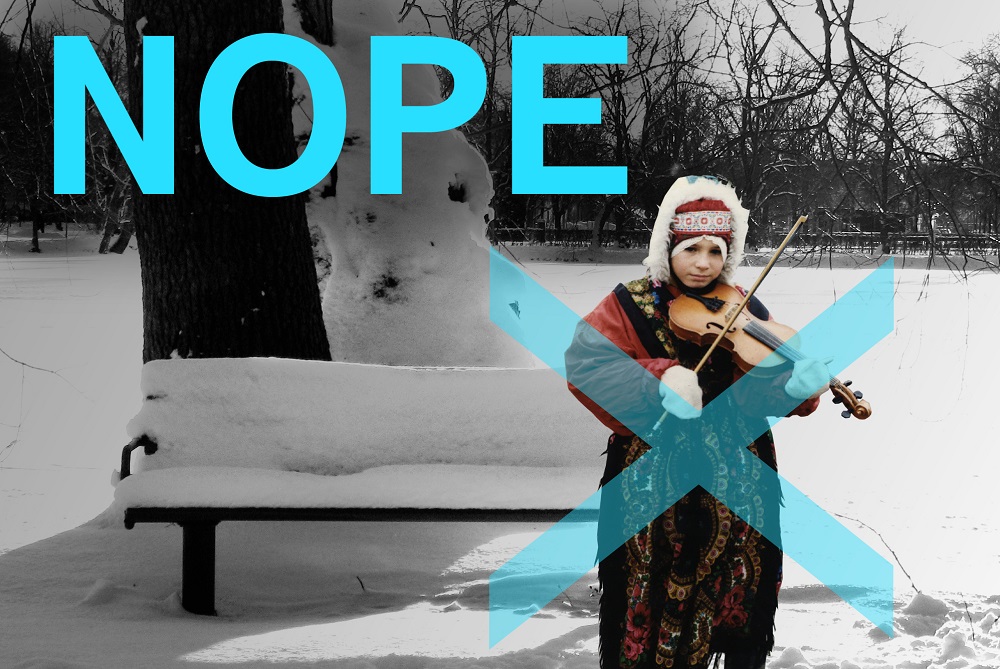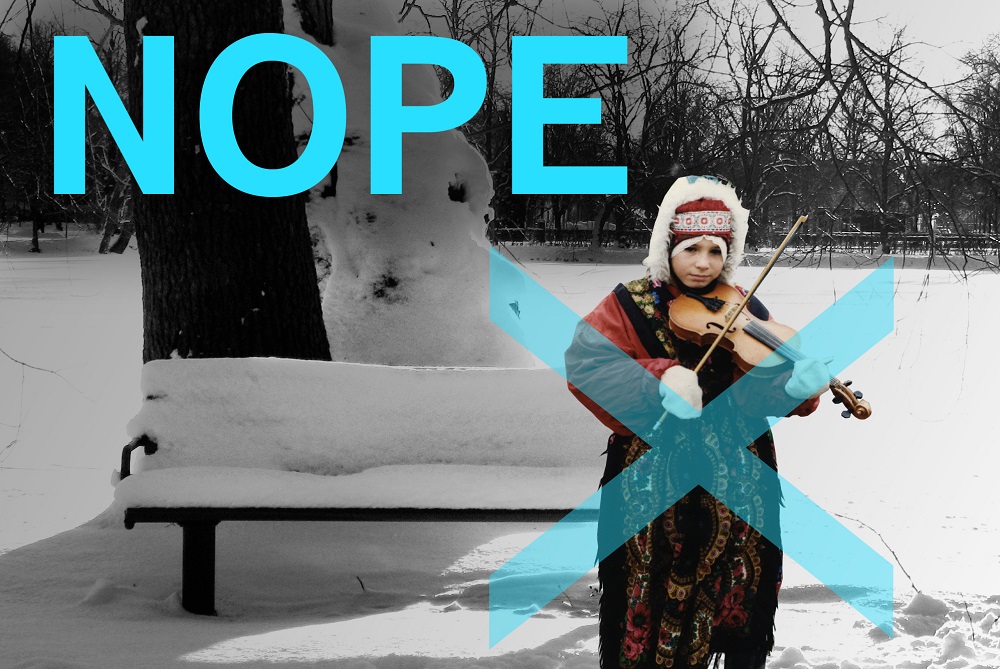 This is your most powerful weapon in the war against winter. Do not underestimate its importance! If you aren't comfortable somewhere, neither is your instrument. Insulate and humidify it like you do yourself. The analogy ends here, because remember how we said rapid temperature changes were a weapon in winter's arsenal? While we enjoy sitting by a heater or fire, your instrument does not. Don't fall into winter's trap—keep your instrument away from direct heat sources.
Humidity Control: We'll say it one more time: lack of humidity is bad for your instrument. Humidify the case, just like you do your home or individual rooms. Ideally, you want to keep the humidity around 40%. There are many types of humidifiers you can use, but our recommendation is to stick to an in-case model rather than one that goes inside the instrument. Both work well, however in-case keeps direct moisture away from the instrument and requires less maintenance. If it goes in the instrument, it means drying it thoroughly, keeping track of it when it's not in the instrument, and daily maintenance. You need to decide what's best for you and your instrument.
Valuable assets to your armory:
Case humidifiers and hygrometers
Step 3: Find allies.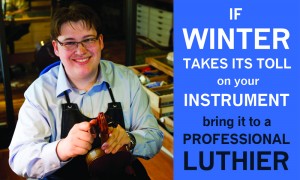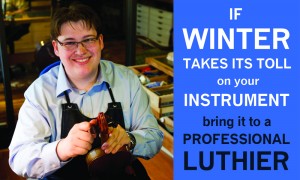 A luthier can be your greatest ally against winter. Despite your own preparations, winter can be a cunning adversary. Be on the lookout for these common battle wounds:
Open Seams: This is by far the most common issue seen during the winter. Thankfully, it is also relatively easy to fix. Keep an eye on the seams–even if you can't see them, a tell-tale buzzing, pop, or sudden change in sound will usually let you know something is amiss. Again, this is something that a luthier can take care of relatively easily but DO NOT REPAIR THIS YOURSELF.  Any variety of glue you find at the hardware store should be nowhere near your instrument. Luthiers use hide glue as well as well-placed clamps to ensure everything is set correctly and have a trained eye to check for any other problems. Home repairs can mean more money spent in the future to undo damage. Don't give winter the satisfaction—go see a luthier.
Cracks: Humidifying your case and protecting your instrument against rapid temperature/climate changes should minimize your risk of cracks, but sometimes winter wins and cracks appear. These should be seen by a luthier as soon as possible because they are more difficult to repair than open seams.
Now is the time to prepare for winter's onslaught! Check out our newly re-vamped website at www.johnsonstring.com to find out more about the products mentioned here or visit us in person at 1029 Chestnut Street in Newton Upper Falls.
Don't miss a post—subscribe to our blog!
Copyright © 2015 · All Rights Reserved · Silvija Kristapsons