Choosing a violin case is an important decision. While everyone is looking for something different when it comes to cases, there is one commonality everyone is looking for: a product that will protect their investment. How this can best be accomplished is an individual decision, but here are some factors to consider:
What To Look For In A Violin Case 
Fit
Instrument. We'll start with the obvious: Does your instrument fit in the case? Is it secure, or does it slide around? When you close the case, does it look like nothing hits the top of the instrument? Again, you want the case to protect your investment and the less your instrument slides around, the safer it will be.
Bow. Do all of your bows fit inside the case? Do you want them to? Violin cases usually have between two and four bow spinners, which is enough for most players.
Accessories. How much extra stuff do you want to keep inside your case? Some cases have more room for things like accessories or music than others.
Portability
This means different things to different people. Think about the type of travelling and commuting you typically do with your instrument. Then, consider the following factors:
Weight. Some cases are lighter than others. If you are doing a lot of walking or get around using public transportation, you may want  a lighter case since you will be carrying it on your person more frequently. If you typically drive to your gigs, weight may be lower on your list of priorities.
Straps. How to do you like to carry your case? Check for strap configuration options–most cases allow for different variations. Also take into consideration what kinds of straps come with the case. Brands like Galaxy and BAM come with two padded backpack straps, while Bobelock comes with only one strap. (You can also purchase individual straps depending on your needs.) One more useful kind of strap to look for: the subway strap. This is the one that is attached to the scroll end of the case that allows you to hold it vertically, and can be a lifesaver on the (of course) crowded subway.
Shape/Style. Shaped cases tend to be more compact but fit less things, while oblong (rectangular) cases fit more things but take up more space. Half-moon cases fall somewhere in the middle.
Protection
We're referring to two specific things when we say protection:
Suspension. Get a case that has suspension. Period. This means that the instrument is not touching the back or front of the case and will not absorb all of the impact if something happens. 99% of cases you look at will have suspension, but double check.
Climate. Do you live somewhere hot and humid? Dry and cold? Both and everything in between? Most cases on the market are at the the very least water resistant, but you may need something more waterproof or insulated depending on where you live. Most cases can be customized to accommodate the climate you live in (in-case humidifiers and case covers are two popular examples), but this is still something to keep in mind when shopping.
Still unsure what to get? Here's a quick breakdown of the most popular brands we carry: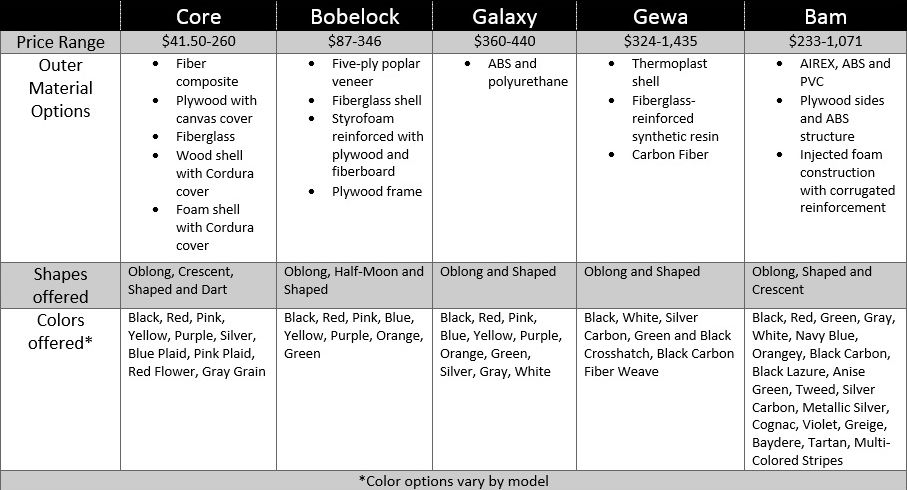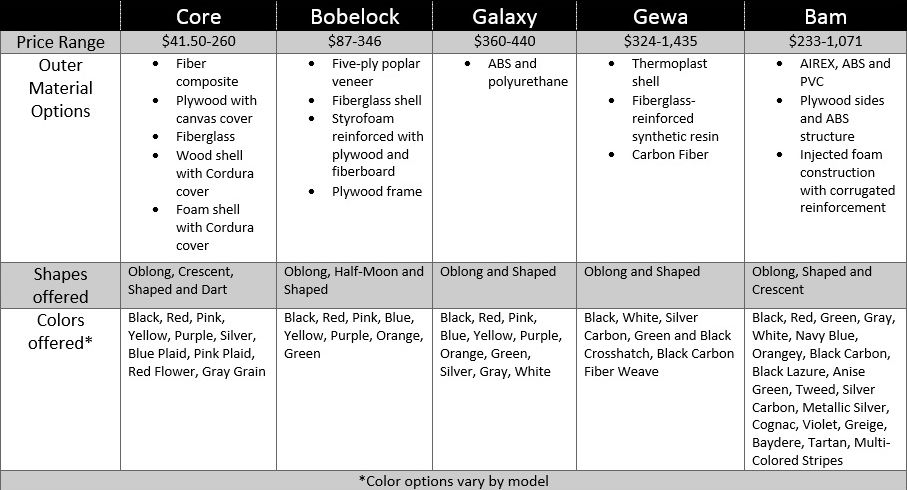 Don't miss a post: subscribe to our blog!
Copyright © 2016 · All Rights Reserved · Silvija Kristapsons