Congratulations, you decided to get one of the Yamaha electric violins: the YEV or the SV-200! How do you decide which one is right for you? Let's take a look at the different instruments:
The Yamaha YEV Electric Violin
The newest of Yamaha's electric violins and a bestseller, this instrument won Best in Show at Winter NAMM in 2016. It's not hard to see why between it's Mobius-inspired design and practical features. Created specifically for performance, the lightweight YEV has a built-in piezo pickup with a ¼" passive output. This means the instrument doesn't require a battery. You can get the YEV in two different natural wood finishes and as a four- or five-string model.
This instrument is perfect for someone looking for an electric violin priced under $1000 exclusively for performance.
The Yamaha SV-200 Silent Violin
The veteran of the group, the SV-200 Silent Violin has one major difference that sets it apart from the YEV: a headphone jack. This allows for "silent" practice in addition to its standard ¼" output for performance. It includes an onboard preamp which requires a 9-volt battery, EQ adjustments that work with professional audio equipment, and dual piezo pickups for a larger dynamic range and resolution. The SV-200 is available in 4 colors.
This instrument is perfect for someone who needs something for silent practice as well as performing.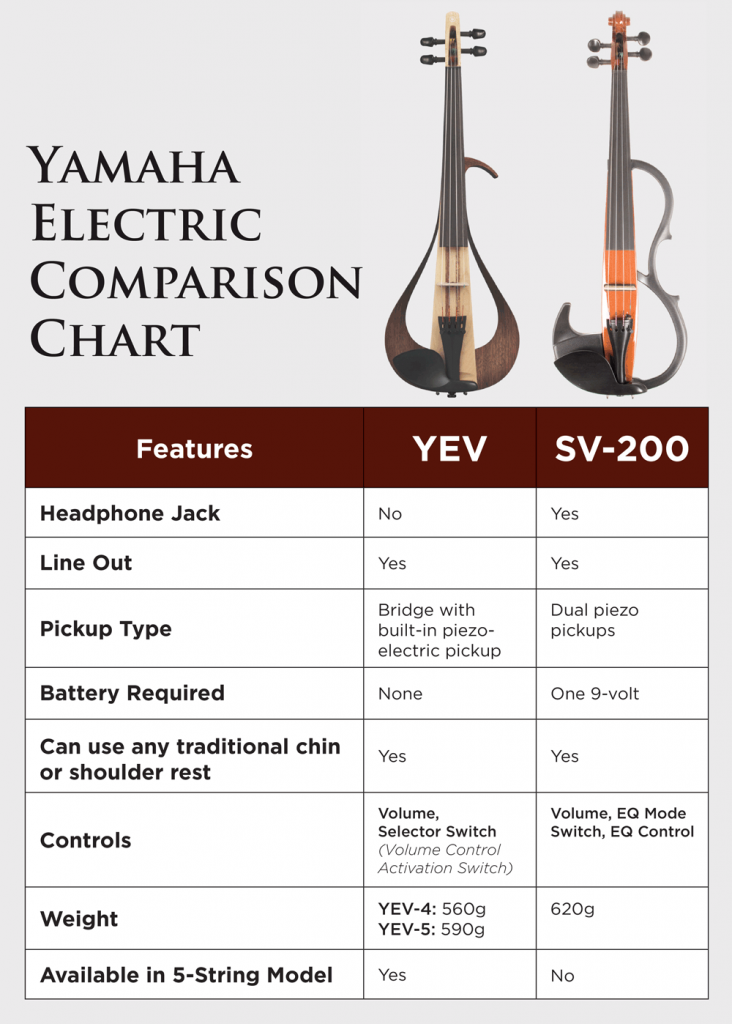 Looking for something that the Yamaha electric violins don't offer? Learn more about finding the right electric instrument and check out our complete selection of electric instruments online and in store. Our staff are always happy to help you decide which instrument works best for you!